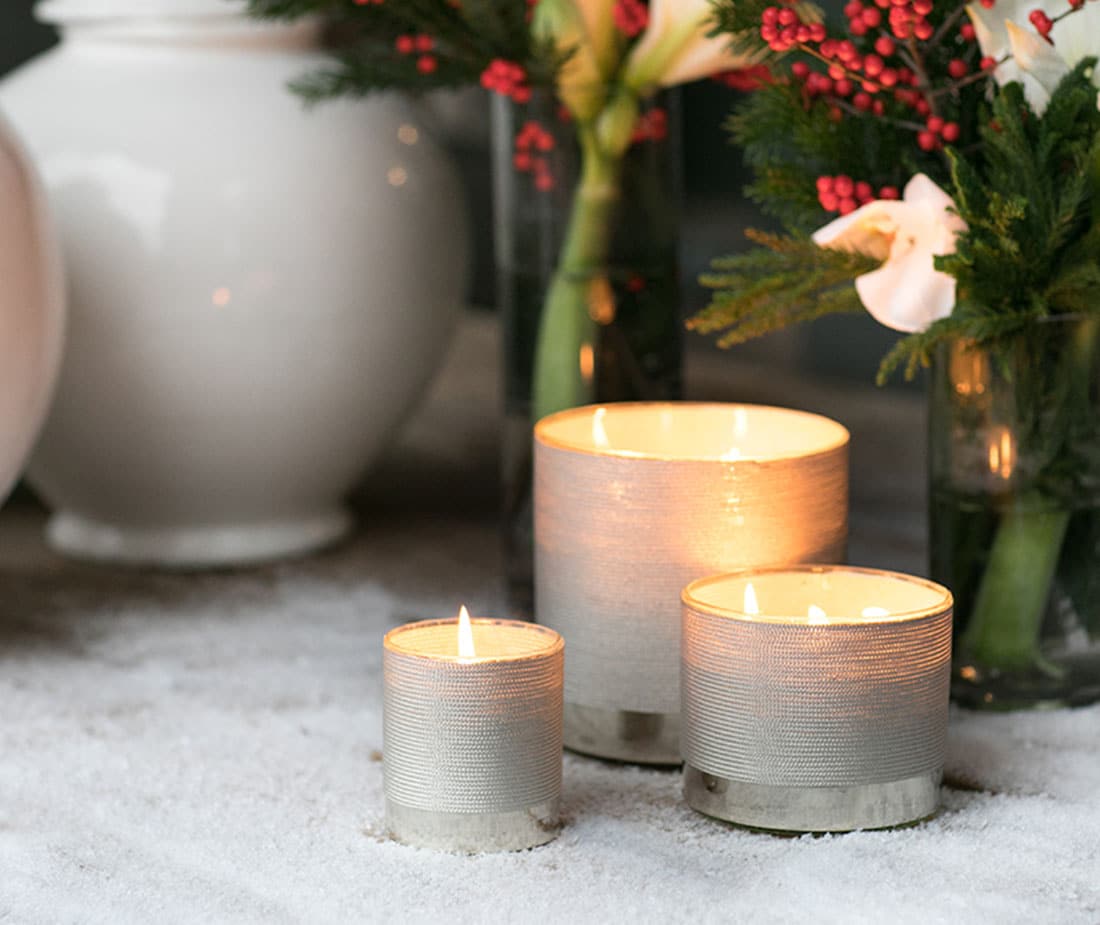 MOROCCAN CANDLES: EVERYTHING YOU NEED TO KNOW ABOUT
Candles were originally created for the sole purpose of lighting the darker spaces over 3000 years ago. Today, the advancement in the universal trends have made them much more than just a lighting liability and a must-have home interior accessory. And no doubt, they give a decorative, appealing, and personal touch to any space. Most of all, Moroccan scented candles have been trending from the past few years.
Wouldn't you want your home to smell wonderful all the time? Or has it ever occurred to your why one of your friend's home smells so good that you just don't want to leave? If so, there are greater chances that your friend might be using scented homemade candles to add appealing fragrance to the interior space. So far, scientists have presented enough facts that scents play an important part in one's mood and emotions. Follow this post and learn more about how Moroccan scented candles is a must-have for any home.  
About Moroccan Scented Candles
Moroccan Scented Candles at Marrakesh Gardens are handmade candles enclosed in a traditional Moroccan glass to enhance your living experience as well as interior space. Moroccan candles generally offer earthy, spicy, and sensual scents that nobody can resist but close the eyes and inhale the fresh morocco flavors. 
If we talk about the origin, the term "Moroccan" came from a diverse yet rich country Morocco located in north Africa. Morocco is a well-known country among spice traders all over the world and is also an important producer of Moroccan scented candles. The sweet scent of jasmine in the Moroccan candles showcase the cool nights of deserts with a little bit of inclusion of ground ginger, oakmoss, sandalwood, velvet roses, and clove. 
Candles with Moroccan scent have been thriving all over the world and is known to add something special in any interior space. The diversity of the Moroccan candles lets you both taste and smell a combination of flavors. Just light any Moroccan scented candle, wait for a few seconds, and inhale deeply after closing your eyes. One can easily smell the orange blossom and rich musk of sandalwood touching the nostrils while tasting the nutmeg and ginger flavors on the tongue. 
In addition, the aromatic combinations of the amber and fig tree blossoms, the fragrance of jasmine, and the warmth of the sun through the unique Moroccan scent makes it an outstanding experience right into your living room. 
The imported thread wrapped glass candle holders are specifically crafted by professionals in Fez, Morocco aimed to complement any type of home interior. All candle holders at Marrakesh Gardens truly reflects the Moroccan life and are traditionally patterned around an efficient glass with thread. Most of all, the high-grade handmade quality, beautiful scents, and the ability to blend into any season or home interior design make Moroccan scented candles the best of its kind.               
Some Good Reasons to Choose Moroccan Scented Candles for Your Home
Scented candles truly promote luxuriousness in the most ideal ways. After a hectic day at school, university, or work, inhaling the beautiful fragrance of jasmine, amber, and fig tree blossoms is most likely to enhance your sleepiness. Some good reasons to have Moroccan scented candles at your home are listed below. 
People Often Love When It Smells Good at Home
After encountering a lot of bad, good, and satisfactory smells throughout the day, our nose and emotions are often confronted and solicited to unpleasant behavior. Whether you were at the office, public transportation, or car, there are greater chances that you had to undergo through certain hectic conditions. This is where scented candles come in handy. 
Burning Moroccan scented candle gives you peace of mind of and sensually relaxed feelings. The beautiful fragrance we smell, taste, and feel in the home after a busy day makes us ready for the next day working day – ensuring quality sleep. It is the same when we select a perfume, body spray, facewash, and shower cream based on the fragrance. Thus, the smell in our homes works the same way. 
Moroccan Candles Are Original Yet Special
Installing Moroccan scented candles at your place won't make it smell like other places you visit throughout the day. And this works for your family, friends, and colleagues too. It gives a positive impression to people visiting at your place and there are higher chances they'll start asking the secret behind the fragrance at your home. 
In addition, Moroccan candles can be found in various scents and you can delight your guests with a new fragrance during every visit. In simple words, you'll get to enjoy a personal scent of your home – which ensures confidence, comfort, and joy. 
Moroccan Candles are Reminiscent 
Our mind and its precious memories are somewhat connected to the prospective scents. Thereby, a scent can always remind us of something or someone special. Relaxing in your living room and inhaling the fragrance of Moroccan scented candles will take you to the exotic islands, sandy beaches, and any other place you'd want to go anywhere in the near future. In simple words, Moroccan is the perfect way to live dreams while laying down on the couch at your place. 
Most of all, Moroccan candles also come with the basics of ordinary candles i.e. they are warm and friendly. While exhaling attractive fragrance to spend quality time with your friends, family, colleagues, or loved one, they will always keep everyone warm and friendly.  The little flame will help the squad engaged in the activities in case of lost electricity or darker conditions. 
If you're looking to spend quality time with your love, a scented, warm, and friendly Moroccan candle ensures enjoyable well-being and ambiance at home.    
Different Types of Moroccan Scented Candles
As opposed to traditional scented candles, Moroccan candles are available in different scents – each one enclosed and decorated in a thread-wrapped glass. Some popular flavors of Moroccan scented candles available at Marrakesh Gardens include
In addition, you can also choose from different scented candle holders that only promotes the unique scents but also complement your home interior space. Overall, Candle Tea Light Holder is one of the most popular Moroccan candle holders among all other options. Learn more about the Moroccan scents and tea light holders here.   
Spend an Artificial Evening in Marrakesh
Installing Moroccan scented candles installed at your place will create a romantic scent of Morocco right into your living room. The exotic musk, amber hue, and soft Jasmin scent make the perfect combination to spend a beautiful evening with your partner at home. Just dim the lights, set up some soft pillows, light the Moroccan scented candles, and you're good to enjoy the essence of Marrakesh exotic land right in your living room. 
In addition, using a few Moroccan candle lanterns will take it to a whole new level – complementing the beauty, smell, and illusion of north Africa.    
Is it Possible to Make Homemade Morocco Scents?
Yes, one can easily experiment with candle scents can come up with something new out of Morocco including 
Sandalwood
Ginger
Cloves
Roses
Jasmine
Oak Moss
Figs
You can use a vanilla base to get started with making your own Moroccan scents. Simply put the scent oils per your requirements in the vanilla base to create something new out of Moroccan scented candles. However, make sure the scented oils you are using to make candles are specifically manufactured for candle making purpose. 
How to Select the Right Scented Candle?
This is one of the most asked questions by most newbies; how to select the right Moroccan scented candle for me? Well, selecting the right scented candle is no different than your perfume, body spray, soap, face wash. Determine the flavor or scent you've been choosing for other healthcare and beauty products and you'll certainly come up with an ideal scent for Moroccan candles. Or choose a scent opposite to your favorite one. This is because sometimes change means everything to us.   
Final Verdict
Moroccan handmade scented candles have already become a spice of life for many people around the world. Most of them are just obsessed with the friendly and personal smell of their homemaking them stand out to all other premises they visit throughout the day. Setting aside the ultimate fragrance ranging from jasmine to fig tree to amber, scented candles serve as a great stress relief remedy – which is called aromatherapy. Ready to light up your desirable Moroccan candle? If so, don't forget to quench the flame once you're done. 
Learn more about the availability, types, scents, tea light candle holders, and any other queries here.